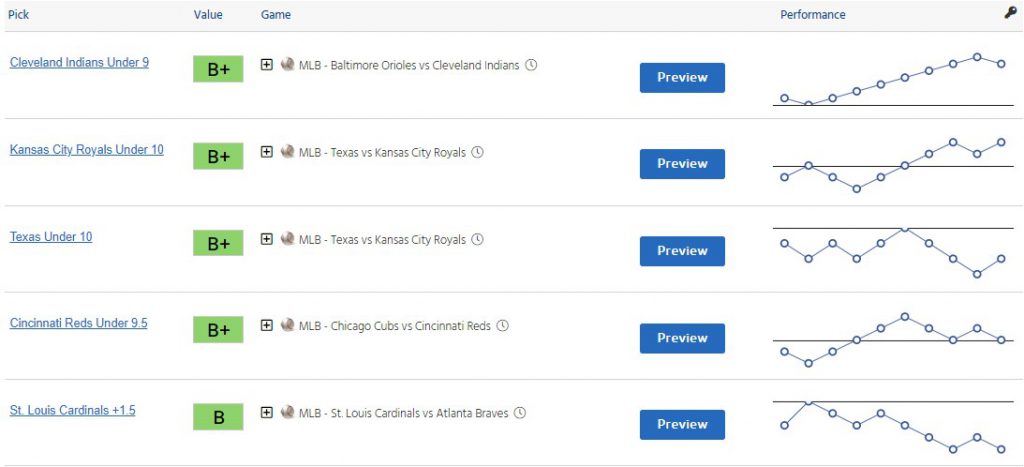 MLB Betting Value Picks for Thursday, May 16
By: Al Walsh – Follow him on Twitter @14AdotWalsh
* 2019 MLB Record: 61-38-4 (61.6%) *
[6:10 p.m. EST] Under 9 (-104) – Baltimore Orioles at Cleveland Indians (1.5-run line: -152)
BAL: Dan Straily – R (1-3, 8.23 ERA/1.83 WHIP)
CLE: Trevor Bauer – R (4-2, 3.02 ERA/1.11 WHIP)
Dan Straily has actually been solid away from Camden Yards this season. Only two of his seven starts have come on the road and they were against the Red Sox and Twins, two of the better offenses in baseball. Straily allowed only one earned run over nine innings in those games.
It's not like today's opponent has been crushing the ball either. The Indians rank third-worst in all of MLB with a .282 wOBA (weight on-base average) against right-handed pitching. Over the last 14 days against righties, Cleveland's projected lineup owns a .320 wOBA and .099 ISO – both of which, are not good at all. Not to mention, seven of the last eight Indians' games have gone under the total.
Now, the real reason for the total going under is Trevor Bauer in a fantastic matchup against the Orioles. Bauer had a fantastic outing in Oakland last time out after two uncharacteristically-bad starts against lesser teams (MIA, CHW). This is still one of the best pitchers in baseball taking the mound against an offense that has scored three runs or fewer in seven of the last 10 games.
Just like the majority of Indians' games coming in under the total, Orioles' contests have suffered the same fate in 12 of their last 16, including each of the last four. Also, like Cleveland, Baltimore's projected lineup is struggling against right-handed pitching with a .257 wOBA and .119 ISO over the last 14 days.
The SK Trend Confidence rating has the under in this game as the top MLB play of the night, and the zaftig juice (-152) on the 1.5-run line is a pretty good indicator that the Indians will get the comfortable win.
* Final Score Projection: Cleveland Indians: 6 – Baltimore Orioles: 2 *
[6:40 p.m. EST] Under 8.5 (-114) – Chicago Cubs at Cincinnati Reds (moneyline: -135)
CHC: Jose Quintana – L (4-2, 3.50 ERA/1.25 WHIP)
CIN: Luis Castillo – R (4-1, 1.76 ERA/0.99 WHIP)
This may seem like a scary proposition with an 8.5-run total at one of the best hitting parks in baseball, but we do have two elite pitchers in solid form. The total has decreased incrementally in each game of this series, so we are trending in the right direction here.
I'm expecting a big performance from Luis Castillo, given the fact that Cincy's moneyline odds have the second-highest increase (-110 to -135) of the day. The electric righty has been efficient in every split this season, especially with a 2-1 record and 1.65 ERA in five home starts, while going 4-0 with a 1.23 ERA in six nighttime starts.
Chicago had a streak of six straight games with the total going under snapped last night. Even though they posted five runs on Wednesday, four of them came via the home run – they won't have that fortune tonight against Castillo.
Jose Quintana will be able to keep this Reds' offense off the scoreboard for most of the night. Against tough competition (MIL, STL, ARZ, LAD), the lefty has been able to hold these team to three runs or fewer in each of the last four starts. Cincy has done fairly well against left-handed pitching over the last 14 days, and that is likely how they get the win, but I think JQ at least holds them to around three or four runs.
The SK Trend Confidence rating likes the under more than any other outcome in this game, but the massive moneyline increase for the Reds is quite telling here as well.
* Final Score Prediction: Cincinnati Reds: 5 – Chicago Cubs: 2 *
[10:10 p.m. EST] Under 7.5 (-110) – Pittsburgh Pirates at San Diego Padres (moneyline: -125)
PIT: Trevor Williams – R (2-1, 3.40 ERA/1.15 WHIP)
SD: Eric Lauer – L (2-4, 5.75 ERA/1.45 WHIP)
Eric Lauer is coming off his worst start of the season, which was a very tough road matchup at Coors Field, but the guy comes through when gifted with favorable matchups. The Pirates head to San Diego with MLB's worst ISO (.091), third-worst wOBA (.266) and fifth-highest K-rate (28.2%) against left-handed pitching. Over the last 14 days, Pittsburgh has a .023 ISO – for reference, that's a level or two above stepping to the plate without a bat.
San Diego's offense hasn't been much better, striking out at a 33% clip against right-handed pitching over the last 14 days – the highest of any split on the day. Trevor Williams needs all the help he can get, after allowing 25 hits over his last 19 innings of work. The righty has been able to keep runs off the board, for the most part, but those baserunners could ultimately be the determining factor in who wins tonight.
The game total has dropped a half-run, while the Padres (-0.2) and Pirates' (-0.3) IRTs have dropped as well. Look for the Padres to take a close, low-scoring game.
* Final Score Prediction: San Diego Padres: 3 – Pittsburgh Pirates: 2 *