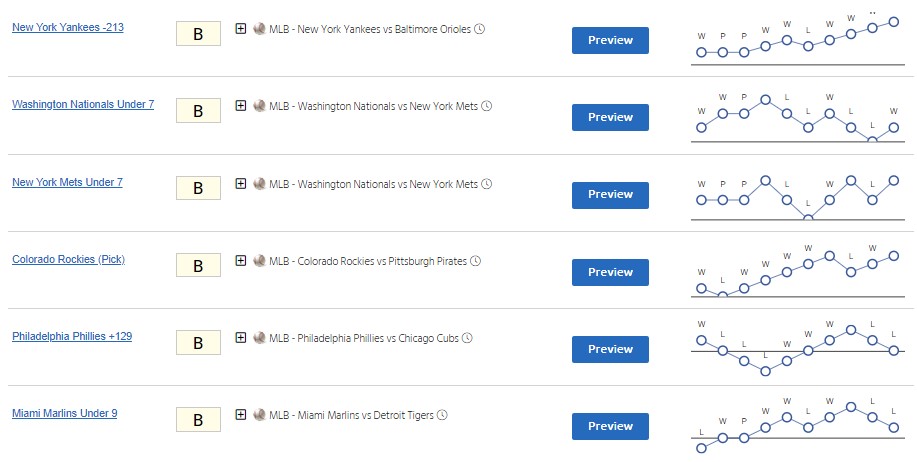 MLB Betting Value Picks for Thursday, May 23 (Afternoon Games)
By: Al Walsh – Follow him on Twitter @14AdotWalsh
* 2019 MLB Record: 77-54-4 *
[12:10 p.m. EST] Washington Nationals (moneyline: -153) at New York Mets
WSH: Stephen Strasburg – R (4-3, 3.32 ERA/0.98 WHIP)
NYM: Steven Matz – L (3-3, 3.96 ERA/1.27 WHIP)
The Nationals have the largest moneyline increase of the day, going from -121 to -153. Stephen Strasburg will be tasked with helping Washington avoid the four-game sweep, and there are more than a few things working in his favor.
For one, Strasburg has thrown five quality starts in his last six outings. His 2.01 ERA in six daytime games and 17 strikeouts against the Mets in 12 2/3 innings have already played out well this season. Strasburg will also benefit from an all right-handed Mets' lineup today – righties have a dismal .257 on-base percentage against him while striking out 31.4% of the time this season.
Stephen Matz has some rough outings under his belt of late. Not to mention, the Nationals have a solid .343 wOBA and very-low 14.1% K-rate against left-handed pitching over the last 14 days. Trea Turner and Anthony Rendon, batting No. 1 and No. 3 in the lineup, have put plenty of hurt on Matz in the past.
Looking at the implied run totals (IRT), the Nationals increased +0.2 while the Mets decreased -0.2. That, along with the moneyline increase for Washington, makes it a likely scenario that the four-game sweep will be avoided.
* Final Score Prediction: Washington Nationals: 5 – New York Mets: 2 *
[12:35 p.m. EST] Under 9 (-110) – New York Yankees at Baltimore Orioles
NYY: Masahiro Tanaka – R (3-3, 3.09 ERA/1.13 WHIP)
BAL: Dylan Bundy – R (2-5, 4.66 ERA/1.27 WHIP)
We might actually have an under in this series for once. After seeing a total of double-digits in three straight games, it's time for a good pitching performance in the daytime.
Masahiro Tanaka has been outstanding in his last three starts, allowing a 0.78 WHIP and only three runs over 19 1/3 innings of work. The Orioles did plenty of work on the lefty CC Sabathia last night, but they still have a .270 wOBA and 27.1% K-rate against right-handed pitching over the last 14 days. Tanaka will also benefit from having Austin Romine, a much better defensive-minded catcher, behind the plate today.
It's always a scary proposition taking the under in a game where Dylan Bundy is pitching, but the Yanks are giving Gary Sanchez and Gleyber Torres the day off today. These two guys have combined to hit 20 homers against the Orioles this season, so luckily, we've got that out of the equation. Bundy has actually allowed no earned runs in two of his last three starts.
Since it's a day game, most people probably won't even realize that Sanchez and Torres are out of the lineup. Don't be one of those people and catch some value on the under in this game!
* Final Score Prediction: New York Yankees: 5 – Baltimore Orioles: 2 *
[1:10 p.m. EST] Miami Marlins at Detroit Tigers (1.5-run line: +132)
MIA: Trevor Richards – R (1-5, 4.44 ERA/1.38 WHIP)
DET: Matthew Boyd – L (4-4, 3.41 ERA/1.01 WHIP)
This is the Tigers' highest moneyline odds (-160) of the season – their previous high of -145 was a game they won as well. It makes plenty of sense, though, with Matthew Boyd on the mound. The lefty ran into two tough opponents (vs. HOU, vs. OAK) in his last two starts but that certainly won't be the case today against the Marlins, who owns league-worst advanced metrics against lefties. Not to mention, Miami has a putrid .223 wOBA and .083 ISO in that split over the last 14 days.
On the other side, Trevor Richards will be pitching for the Marlins – and that's great news for the Tigers. Richards has allowed two homers in four of his last five starts, so it's no surprise either that the Marlins have lost all but one of his nine starts this season.
The total jumped up an entire run from 8.0 to 9.0, and you have to believe that's because of the Tigers and their impending matchup against Richards. Look for Boyd to fry the fish and get the easy win in the process.
* Final Score Prediction: Detroit Tigers: 7 – Miami Marlins: 2 *