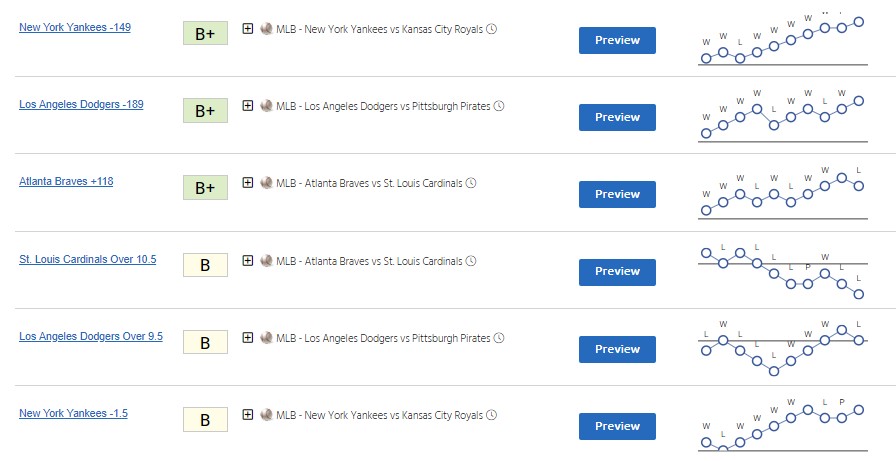 MLB Betting Value Picks for Sunday, May 26
By: Al Walsh – Follow him on Twitter @14AdotWalsh
* 2019 MLB Record: 78-59-4 *
[2:15 p.m. EST] Under 9.5 (-118) – New York Yankees at Kansas City Royals
NYY: Domingo German – R (9-1, 2.60 ERA/0.98 WHIP)
KC: Danny Duffy – L (3-1, 3.45 ERA/
Domingo German has been just what the Yankees needed this season, given all their injuries. It is interesting, though, that this KC team is the only one to hand him a loss this season. German still pitched well in that game, allowing three runs over six innings, but I would look for him to have added motivation in this matchup.
Danny Duffy has been much better since the start of May, with a 3-0 record and 3.04 ERA in four starts. It's crazy, but Duffy has actually been much better against right-handed batters this season, allowing an opposing batting average of .229 and .690 OPS.
Given the recent performances of both starters and the talented Yankees' bullpen, I'm going with the under in this game. Ultimately, that should be the difference in the game as well.
* Final Score Prediction: New York Yankees: 4 – Kansas City Royals: 3 *
[2:20 p.m. EST] Under 7.5 (-110) – Cincinnati Reds at Chicago Cubs
CIN: Tanner Roark – R (3-3, 3.51 ERA/1.42 WHIP)
CHC: Jose Quintana – L (4-3, 3.30 ERA/1.22 WHIP)
After two games with double-digit run totals, Vegas placed a 7.5-total on this game featuring two crafty veteran pitchers. The weather won't be inducive to offense, as the temps will be in the upper-50s with the wind blowing in at about 10 mph. Also, the opening total dropped from 8.0 to 7.5, with the team's IRT subsequently dropping as well – Reds: -0.3, Cubs: -0.2.
Given the microscopic run total, I'm banking on Jose Quintana to have a huge start today. Cincy's offense has been struggling mightily against left-handed pitching over the last 14 days, with a .198 wOBA and .087 ISO. Quintana has been legit over his last eight starts, not allowing more than three runs in any of those starts.
In Quintana's last three starts, the game total has only maxed out at seven.
On the other side, Tanner Roark has been solid in the month of May with an ERA just under 3.00. What is particularly appealing about Roark is the fact that he's only allowed two homers in 51 1/3 innings of work this season.
I'm trusting the numbers from Vegas and the SK Trend Confidence rating, which is the highest on the slate, for this total going under.
* Final Score Prediction: Chicago Cubs: 4 – Cincinnati Reds: 2 *
[3:00 p.m. EST] Baltimore Orioles at Colorado Rockies (1.5-run line: -152)
BAL: David Hess – R (1-6, 6.75 ERA/1.41 WHIP)
COL: German Marquez – R (5-2, 3.38 ERA/1.11 WHIP)
Sometimes the numbers speak to you… and sometimes they scream right in your face. The Rockies have a 7.9 IRT today, and that's a +0.6 increase from the initial number, which was at 7.3. That current number is clearly the highest IRT of the MLB season. Colorado also had a moneyline increase from -262 to -316, the largest on the slate.
There's a good reason for that zaftig IRT, as the Orioles have allowed 113 homers – 20 more than any other team in MLB. Baltimore's starter David Hess has been ripped consistently, allowing nine homers in his last 15 innings of work. Not to mention, Hess has a K-prop of 4.0, with the juice on the under at -150 – that's basically saying he won't last long today.
You very well could take the over (11.5, -118) in this game, considering Rockies' starter German Marquez has allowed at least seven hits in five of his last seven starts. Marquez did have his best outing of the season last time out against the Pirates, but that was at PNC Park.
At Coors Field this season, Marquez does have a 5.34 ERA and 1.67 WHIP in five starts and Baltimore hasn't necessarily been terrible with the bats. Over the last 14 days, the Orioles have a .350 wOBA and .225 ISO against right-handed pitching.
Although it's more money to lay, I do have more faith in the Rockies totally thrashing the Orioles today. Let's take Colorado on the 1.5-run line.
* Final Score Prediction: Colorado Rockies: 9 – Baltimore Orioles: 3 *