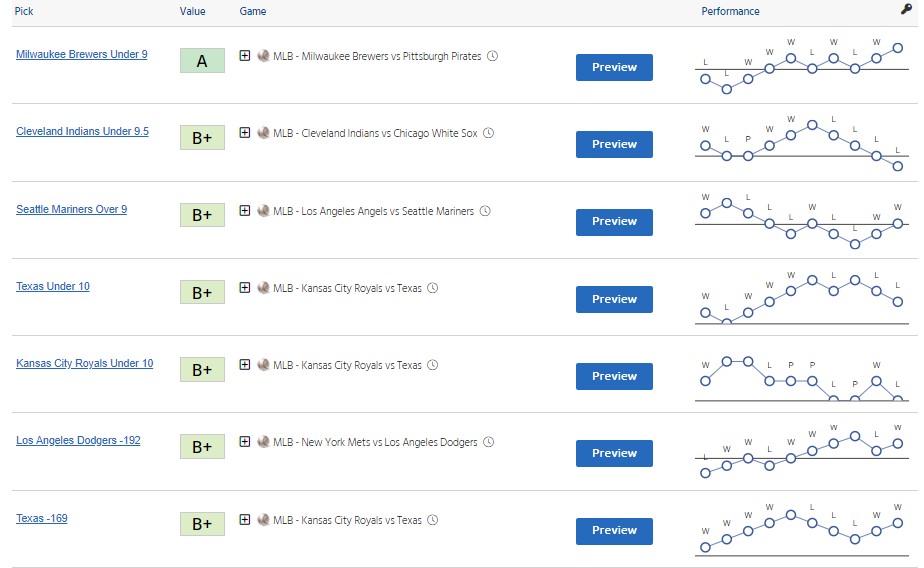 NBA Finals and MLB Betting Value Picks for Thursday, May 30
By: Al Walsh – Follow him on Twitter @14AdotWalsh
NBA Finals – Game 1: Golden State Warriors (ML: +120) at Toronto Raptors
Game 1 of the NBA Finals starts tonight and the SK Trend Confidence rating is high on the Golden State moneyline at +102. While the Raptors were battling it out in seven games, the Warriors were able to sit back and study their opponent. Now, DeMarcus Cousins will be available for tonight's game, giving the Warriors yet another weapon at their disposal.
* 2019 MLB Record: 84-67-4 (56%) *
[7:05 p.m. EST] Under 9 (-118) – Milwaukee Brewers (ML: -125) at Pittsburgh Pirates
MIL: Chase Anderson – R (2-0, 3.25 ERA/1.34 WHIP)
PIT: Joe Musgrove – R (3-5, 4.27 ERA/1.15 WHIP)
The only game with an A-grade on the SK Trend Confidence rating is the under on tonight's game between the Brewers and Pirates. Phil Cuzzi, an extreme pitcher's umpire, will be behind the plate and that lends more optimism to us winning this bet. In fact, Cuzzi has been behind the plate for 349 games over his career and the offenses have combined for a microscopic .311 on-base percentage – that's the second-fewest for any home plate umpire with at least 100 games.
Most of the efficient pitching should come from the Brewers' side of things with Chase Anderson starting on the mound. While he hasn't been going deep into games, Anderson has been able to hold it down for the bullpen, not allowing more than three runs in any of his nine outings this season.
Joe Musgrove hasn't been at his best lately, but neither have the Brewers' bats. Over the last 14 days, Milwaukee has an anemic .304 xwOBA – a metric used to dictate quality of hit balls. Six of the last nine Brewers games have gone under the total, so look for that trend to continue tonight.
I'm going to take the Brewers on the moneyline as well, but the SK system is certainly in love with the under here.
* Final Score Prediction: Milwaukee Brewers: 5 – Pittsburgh Pirates: 2 *
[8:05 p.m. EST] Under 10 (-110) – Kansas City Royals at Texas Rangers (ML: -154)
KC: Jakob Junis – R (3-5, 5.58 ERA/1.48 WHIP)
TEX: Mike Minor – L (5-3, 2.55 ERA/1.13 WHIP)
Very strong data is coming in all over this game between the Royals and Rangers. The SK Trend Confidence rating loves the Rangers and the under, both with grades of B+.
A big reason for both of those possible outcomes is Mike Minor, who is 3-1 with a 2.08 ERA in five starts at Globe Life Park this season. The remodeled veteran has been straight filthy, and that's bad news for a Royals team that has the third-worst wOBA (.276) against left-handed pitching this season. Not to mention, KC has putrid .262 wOBA and .036 ISO numbers against lefties over the last 14 days.
Jakob Junis has his work cut out for him, going against a talented Rangers' lineup. Texas has been much better at home, compiling a 17-8 record at Globe Life Park, compared to its 10-18 record on the road. The Royals haven't offered up much help for their boy Junis, losing seven of his last 10 starts, including each of the last four.
I really don't mind going with the Rangers on the 1.5-run line at +112 here, but I'm going to keep it simple and just roll with the moneyline. I'll kick myself later.
* Final Score Prediction: Texas Rangers: 7 – Kansas City Royals: 2 *
[10:00 p.m. EST] New York Mets at Los Angeles Dodgers (1.5-run line: -140)
NYM: Jason Vargas – L (1-2, 5.22 ERA/1.57 WHIP)
LAD: Hyun-Jin Ryu – L (7-1, 1.65 ERA/0.83 WHIP)
The Mets just keep doing Mets things – don't ever change!
After last night's catastrophic loss in the ninth inning, there's no way these guys can pick themselves up off the ground. Especially going against one of (if not) the best pitchers in the National League this season.
Hyun-Jin Ryu has been dealing heartbreaks on the mound all year, so what's another one? In fact, Ryu has been even more lethal at home in Dodger Stadium, with a 5-0 record, 1.22 ERA and only one walk in 37 innings of work.
I'm absolutely astonished at how well Jason Vargas has pitched this season, but this all has to be coming to an end shortly. The Dodgers have done well against left-handed pitching too, and that's probably because they have plenty of experience. No other team in MLB has more plate appearances (716) against lefties than LA. Quite fascinating!
All in all, this is just too tough of a spot for the Mets tonight. The Dodgers have handled them all series and will do so again.
* Final Score Prediction: Los Angeles Dodgers: 7 – New York Mets: 2 *