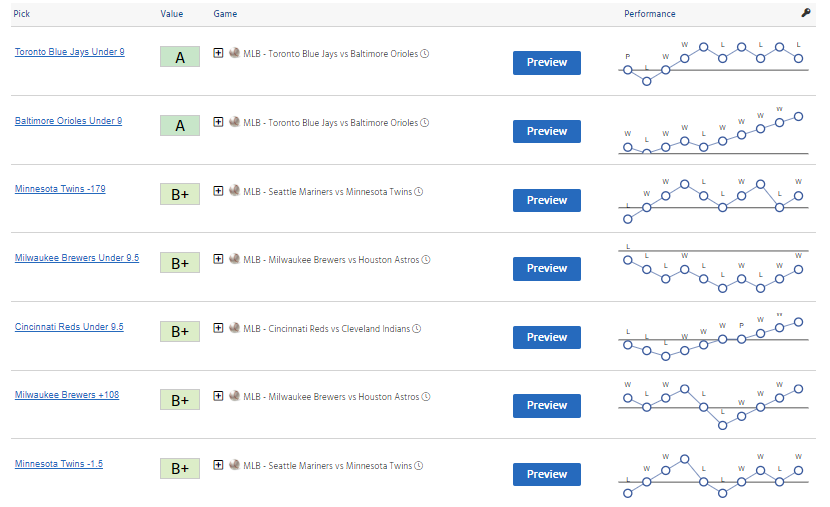 MLB Betting Value Picks for Tuesday, June 11
By: Al Walsh – Follow him on Twitter @14AdotWalsh
* 2019 MLB Record: 101-81-4 (55.5%) *
[7:05 p.m. EST] Under 9 (-116) – Toronto Blue Jays at Baltimore Orioles
TOR: Trent Thornton – L (1-4, 4.73 ERA/1.36 WHIP)
BAL: John Means – L (5-4, 2.67 ERA/1.07 WHIP)
The highest SK Trend Confidence rating of the day is the under on this Blue Jays-Orioles game. According to the Vegas trends, the Blue Jays are somehow getting more love. It does, however, give me confidence that Toronto's Trent Thornton will have a good outing on the mound, leading us to the total going under.
Thornton has allowed three runs or fewer in six of his last eight starts. I guess part of the reason for the Blue Jays' love in Vegas is the Orioles' anemic .235 wOBA and .067 ISO against left-handed pitching these last 21 days. That'll typically do it.
The part that really baffles me is that John Means takes the mound for Baltimore, and he's been nothing short of miraculous at home for this awful team. The rookie southpaw is 3-1 in seven appearances (five starts) at Camden Yards, with a 1.53 ERA and an opposing batting average of .173. Not to mention, Toronto owns the fifth-worst wOBA (.283) and ISO (.146) against lefties this season.
We do have two Blue Jays' hitters to worry about, though, as Vladimir Guerrero Jr. and Lourdes Gurriel have both crushed lefties over the last 21 days. If that's where Means gets beat, it'll likely be from there.
I don't get it, but I've also learned to not doubt Vegas. I'll give the Blue Jays the nod, but the total going under looks a lot better, especially with the wind blowing in at about 9 mph.
* Final Score Prediction: Toronto Blue Jays: 3 – Baltimore Orioles: 2 *
[7:10 p.m. EST] Under 8.5 (-118) – Cincinnati Reds at Cleveland Indians
CIN: Luis Castillo – R (6-1, 2.26 ERA/1.10 WHIP)
CLE: Trevor Bauer – R (4-6, 3.93 ERA/1.16 WHIP)
This nightmare has to end eventually for Trevor Bauer – it just has to. He is one of the most talented pitchers in baseball, and it should be noted that there have been glimmers of hope this season.
Speaking of hope, an in-state matchup against the Reds offers just that. No other team in baseball has scored fewer runs (15) since the start of June, and it's been seven straight games involving Cincy where the total has gone under. The Reds also rank in the bottom-third of MLB in most advanced metrics against right-handed pitching this season.
Four of Bauer's five career starts against the Reds have gone under the total, as he's amassed a 1.20 WHIP in those games.
Luis Castillo had some slip-ups recently, but overall this is one of the most talented pitchers in baseball. In night starts this season, Castillo has gone 6-0 with a microscopic 1.50 ERA and 58 strikeouts over 48 innings.
With the Reds' inability to score runs of late, I'm going with the Indians to get the victory. But the main play here is going under the total.
* Final Score Prediction: Cleveland Indians: 3 – Cincinnati Reds: 2 *
[8:10 p.m. EST] Over 9.5 (-120) – Seattle Mariners at Minnesota Twins
SEA: Mike Leake – R (5-6, 4.30 ERA/1.27 WHIP)
MIN: Martin Perez – L (7-2, 3.72 ERA/1.42 WHIP)
Mike Leake is coming off two consecutive dazzling performances, including a complete-game one-run gem against the Astros last time out. However, most of Leake's success has come at T-Mobile Park this season, which is not where he'll be tonight. Instead, he'll be at Target Field in Minnesota, where the Twins are 67-40 at home since last season (19-9 this season). Not to mention, the Mariners are a horrific 5-25 against teams with a winning record in 2019.
The Twins' offense has been destroying opposing pitchers of both handedness, but their 35-15 record against right-handed starters this season speaks plenty of volumes. Over the last 21 days, the Twins have a massive .380 wOBA and .316 ISO against righties.
Martin Perez should be ecstatic to get back on the mound at home, where he owns a 3-1 record and 2.51 ERA this season. However, he's allowed 11 runs (eight earned) over the last 7 1/3 innings of work, and the Mariners' offense has a robust .366 wOBA and .243 ISO against left-handed pitching over the last 21 days.
We've got two more primary facts of evidence going in our favor for the total going over – Each team's bullpen is getting ripped over the last 14 days and the wind will be blowing out to left field at 9 mph.
The SK Trend Confidence rating is very high on the Twins tonight, with B+ grades on their moneyline and 1.5-run line, but the over is my main play here.
* Final Score Prediction: Minnesota Twins: 9 – Seattle Mariners: 6 *
[8:10 p.m. EST] Washington Nationals (1.5-run line: -116) at Chicago White Sox
WSH: Patrick Corbin – L (5-4, 3.59 ERA/1.20 WHIP)
CHW: Manny Banuelos – L (3-4, 7.36 ERA/1.83 WHIP)
We've got a HUGE mismatch of offense against left-handed pitching that we need to exploit tonight. In the words of Ace Ventura, "Alllllrighty then!"
The Nationals own the fourth-best wRC+ (117) and fifth-best wOBA (.354) against lefties this season. That's terrible news for Manny Banuelos, who has allowed at least five runs in four of his last five starts. Not to mention, the Nats get an extra bat in their lineup tonight because of the DH rule in the American League Park.
Even better news for Washington is its performance against lefties over the last 21 days – about the amount of time their lineup has been mostly healthy. Over that time frame, the Nats have a gaudy .380 wOBA and .200 ISO against left-handed pitching.
The White Sox have been the complete opposite. Over the last 21 days, they have a putrid .258 wOBA and .037 ISO against left-handed pitching. Let's all give a big YIIIIIKES to the White Sox chances tonight as they go against the very talented Patrick Corbin. Now, it's worth noting that Corbin hasn't been at his best of late, but an opponent like Chicago is certainly one which can get him back on track.
All in all, we've got stats-overload in our favor, and the Nationals should give Corbin more than enough run support in this one.
* Final Score Prediction: Washington Nationals: 10 – Chicago White Sox: 4 *
<>
* Key terms used in today's writing:
– ISO = Isolated Power (A sabermetric computation used to measure a player's raw power. This distinguishes a batter with a .300 batting average and many singles, as opposed to a batter with a .300 average and more extra-base hits… typically, .200 is where you want to be in ISO.)
– wOBA = Weighted On-Base Average (A version of on-base percentage that accounts for how a player reached base. The value for each event is determined by how much it is worth in relation to a run created – Ex: a double is worth more than a single, a triple is worth more than a double, a home run is worth more than a triple, etc… about .320 is league average)
– xwOBA = Expected Weighted On-Base Average (The same thing as wOBA, just removing defense from the equation. An easy way of looking at xwOBA, would be to just imagine there are no fielders on the playing surface.)
– wRC+ = Weighted Runs Created Plus (Runs created + adjusting the number to account for important external factors – like ballpark or ERA… 100 is league average)