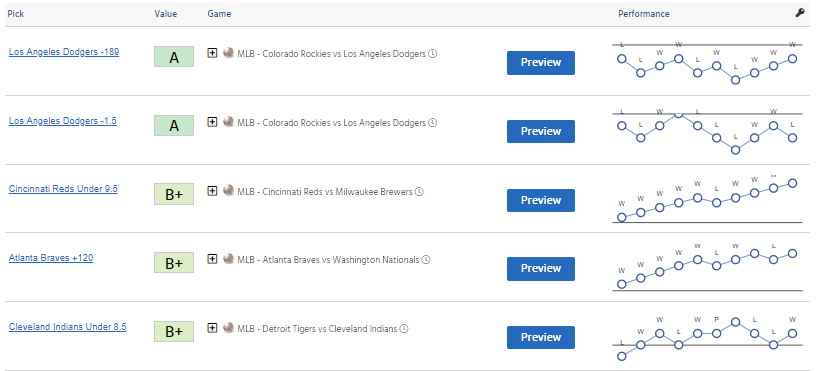 MLB Betting Value Picks for Sunday, June 23
By: Al Walsh – Follow him on  Twitter @14AdotWalsh
* 2019 MLB Record: 118-101-4 (54%) *
[1:10 p.m. EST] Detroit Tigers at Cleveland Indians (ML: -200/1.5-run line: -114)
DET: Daniel Norris – L (2-5, 4.40 ERA/1.41 WHIP)
CLE: Zach Plesac – R (2-2, 2.56 ERA/0.98 WHIP)
The Indians are 7-1 against the Tigers this season, and it's not looking like things will get any better for the visitors today. This will be the 11th time Cleveland is favored by -200 or more, with an 8-3 record in those games.  On the other hand, Detroit has been struggling, with losses in seven of the last eight contests.
Zach Plesac, the nephew of former MLB pitcher Dan Plesac, has lived up to the namesake early in his career. The rookie righty has allowed two runs or fewer in four of the last five starts – one run or fewer in three of the five. Detroit's numbers against right-handed pitching over the last 21 days are absolutely dreadful — .287 wOBA, .145 ISO and 25.4% K-rate.
On the flip side, Cleveland's offense has been the exact opposite against left-handed pitching. The Tribe has a magnificent .400 wOBA, .292 ISO and 14.4% K-rate in that split over the last 21 days.
While Daniel Norris hasn't exactly gotten beat over the head recently, it'll be tough for him to keep up that level of effectiveness today against an Indians team that is rocking and rolling — pun intended to the city of Cleveland.
Lastly, we've got a huge difference in bullpens here, as the Indians own the league's best ERA (3.21) and the Tigers have the fifth-worst (5.18).
I don't mind taking the Indians on the moneyline or 1.5-run line here — they get it done either which way.
* Final Score Prediction: Cleveland Indians: 6 – Detroit Tigers: 2 *
[1:35 p.m. EST] Atlanta Braves (1.5-run line: -106) at Washington Nationals
ATL: Mike Soroka – R (8-1, 2.12 ERA/
WSH: Austin Voth – R (season debut)
Mike Soroka has looked a little more human after his unreal start to the season, but it's still been enough to keep getting the Braves wins. The young Canadian righty only threw 68 pitches in his last outing, so look for him to be fully charged up for this one.
Atlanta is a perfect 10-0 when Soroka starts against teams with a losing record this season and the team also own a 10-2 record on Sundays. The Braves have won the last eight of Soroka's starts. Also, the Nationals have somehow never seen Soroka before, giving him the advantage of the unknown – it's a thing.
Austin Voth gets a spot start for the Nationals today, in place of Joe Ross. Washington needed Ross to pitch last night in an emergency because of all the runs that were scored, and the fact that its bullpen has been taxed all week – including the doubleheader on Wednesday. Voth's season down in Triple-A hasn't been great, as he's 3-5 with a 4.40 ERA.
This is all great news for the Braves' offense today, and Vegas has taken note by elevating their IRT an entire run from 4.6 to 5.6 – the third-highest on the entire slate. Atlanta's offense also owns a massive .385 wOBA and .260 ISO against right-handed pitching over the last 21 days.
* Final Score Prediction: Atlanta Braves: 10 – Washington Nationals: 3 *
[1:35 p.m. EST] San Diego Padres (ML: -142) at Pittsburgh Pirates
SD: Joey Lucchesi – L (6-4, 3.74 ERA/1.11 WHIP)
PIT: Steven Brault – L (3-1, 4.40 ERA/1.55 WHIP)
The Padres will be looking to avoid the sweep and look to have the right guy for the job in Joey Lucchesi, who is coming off a masterful seven-inning shutout performance against the Brewers. Lucchesi has been solid, allowing two earned runs or fewer in three of his last four starts, and he already stifled this Pirates' offense a little more than a month ago by allowing only two runs over seven innings.
Not to mention, the Pirates own the league's third-lowest wOBA (.284) against left-handed pitching. Pittsburgh's .282 xwOBA against lefties over the last 21 days indicates they're not seeing the ball well either and with Lucchesi's herky-jerky motion won't make things any easier.
It's certainly an optimistic outlook for the Padres, as this will be their second-highest moneyline odds on the road this season.
Steven Brault goes for the Pirates, and he'll have trouble against a Padres' lineup featuring seven right-handed bats. As a team, San Diego owns a massive .256 ISO against left-handed pitching over the last 21 days.
Look for Lucchesi's big outing to lead the way to a Padres' victory today.
* Final Score Prediction: San Diego Padres: 7 – Pittsburgh Pirates: 2 *