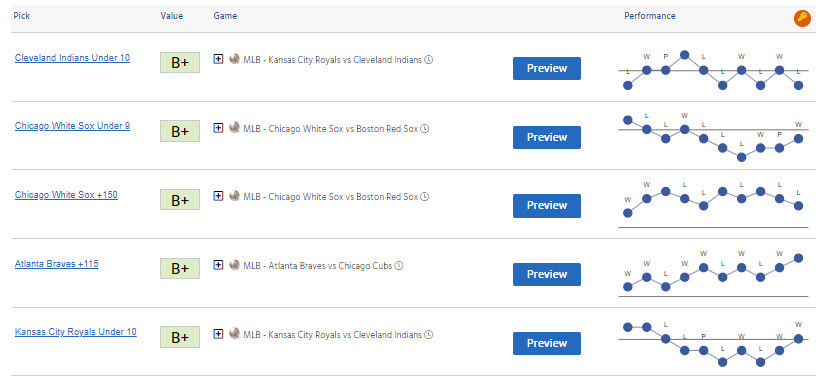 MLB Betting Value Picks for Tuesday, June 25
By: Al Walsh – Follow him on  Twitter @14AdotWalsh
* 2019 MLB Record: 120-105-4 (53.3%) *
[7:05 p.m. EST] Over 10.5 (-122) – New York Mets at Philadelphia Phillies
NYM: Walker Lockett – R (0-1, 23.14 ERA/2.57 WHIP)
PHI: Jake Arrieta – R (6-6, 4.12 ERA/1.39 WHIP)
We saw a slugfest last night, and we're going to see one again. Vegas already set the tone for this game, raising the total from 10 to 10.5, and the heavy juice (-122) is on the over.
Most of that has to do with Walker Lockett, who has been battered in his brief MLB experience. Dating back to last season, Lockett owns an 0-4 record to go along with an 11.42 ERA/2.19 WHIP over 17 1/3 innings.
The Phils are coming off a season-high 19-hit performance in last night's game, and I'd look for them to carry over the hot-swinging sticks tonight. As I mentioned in yesterday's writing, the Phils were swept over the weekend by the lowly Marlins, and this series against the Mets is a true challenge of where this team is at – and where they'll be going forward.
Jake Arrieta has thrown two consecutive quality starts, but I don't see that trend continuing. Left-handed batters have been giving him plenty of trouble this season, and now the Mets have guys like Jeff McNeil, Robinson Cano and Michael Conforto back in the lineup.
Just as the case was last night, both teams' bullpens are an absolute mess. I went over the advanced metrics yesterday, so there's no need to do it again after a 13-7 game. They suck, take my word for it.
A total of eight homers were hit in last night's game, adding on to the narrative of slugfests between these two teams at Citizens Bank Park. Let's do it again!
* Final Score Prediction * Philadelphia Phillies: 10 – New York Mets: 5
[8:10 p.m. EST] Over 10.5 (-104) – Seattle Mariners at Milwaukee Brewers
SEA: Marco Gonzales – L (8-6, 4.38 ERA/1.37 WHIP)
MIL: Zach Davies – R (7-1, 3.06 ERA/1.36 WHIP)
We've got two hot offenses going head-to-head in Milwaukee, so it's only natural to take the over here. After all, Vegas raised the total from 9.5 to 10.5, with each team getting a nice IRT increase as well – Brewers: +0.6, Mariners: +0.4.
After struggling at the beginning of June, the Brewers have now scored at least six runs in four of the last five games. Looking at their Statcast data over the last 21 days, we'll see that Milwaukee has been quite unlucky against right-handed pitching over that span. Their .357 xwOBA and .310 wOBA have a huge gap, with the xwOBA telling us their quality of contact is high and the wOBA telling us how painful it's been to watch those baseballs hit leather.
Marco Gonzales has pitched well in his last three outings, but he's facing an incredibly tough lineup in their own ballpark tonight. Not to mention, Miller Park tends to favor offenses more often than not.
The Mariners' bullpen owns the fourth-worst ERA (5.24) in all of baseball, and we'll probably see more of them tonight if Gonzales gets lifted for a pinch hitter in the NL ballpark.
Zach Davies has been knocked around in the month of June, allowing 30 hits and 13 runs over 20 2/3 innings of work. Opposing hitters have a .353 batting average against him over that span.
Seattle's offense is rocking and rolling with a .360 wOBA against right-handed pitching over the last 21 days, and the top of its' lineup is mainly to thank for that.
All in all, we've got two teams making solid contact with the ball and the Brewers should especially be able to feast late in this game against the Mariners' bullpen.
* Final Score Prediction * Milwaukee Brewers: 8 – Seattle Mariners: 6