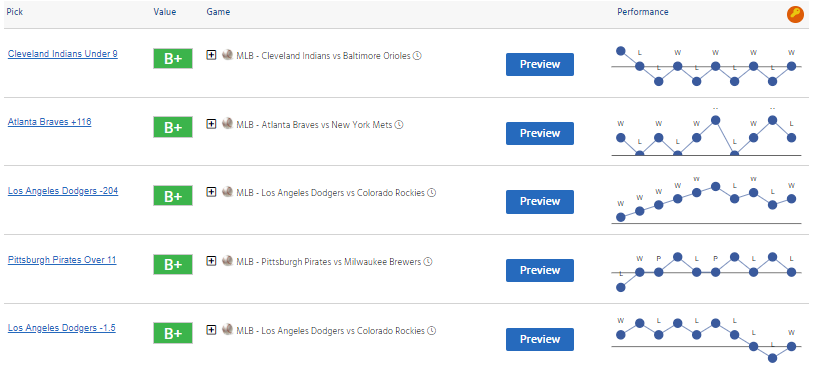 MLB Betting Value Picks for Friday, June 28
!!! ATTENTION READERS !!! 
Just wanted to give everyone a heads up, but there won't be any written articles tomorrow (6/29), next Friday (7/5) and next Saturday (7/6) due to prior commitments. Sorry for the inconvenience. All computer-generated picks will still be calculated and the site will be up and running on those days as usual.
By: Al Walsh – Follow him on  Twitter @14AdotWalsh
* 2019 MLB Record: 125-106-4 (54%) *

[8:10 p.m. EST] Over 11 (-102) – Pittsburgh Pirates at Milwaukee Brewers
PIT: Chris Archer – R (3-6, 5.56 ERA/1.48 WHIP)
MIL: Jhoulys Chacin – R (3-8, 5.88 ERA/1.51 WHIP)
The Brewers' offense surprisingly sputtered in their recent three-game series against the Mariners, but just watching yesterday's game it was evident that bad luck played a part. Numerous hard-hit balls managed to find leather or landed a few steps from the wall.
Luckily, they'll be facing a pitcher in Chris Archer who hasn't been at his best. In fact, the right has allowed a homer in 11 of his 13 starts this season and owns a massive 8.42 ERA on the road. Since coming to Pittsburgh, Archer has allowed at least four runs and two homers in each of his three starts against Milwaukee.
On the other side, Jhoulys Chacin has been getting rocked all season. His last outing against the Pirates (on May 31) was downright brutal, as the righty allowed six hits/four walks and seven runs over 2 2/3 innings.
Good news for the Pirates – and the over – is that Brewers' reliever Josh Hader pitched the final two innings yesterday to get the save. After pitching two innings the previous day, Hader has not entered the next day's game once in his career.
The SK Trend Confidence rating has a B+ grade on the over in this game, given how many runs these two teams have put up against each other this season.
* Final Score Prediction * Milwaukee Brewers: 8 – Pittsburgh Pirates: 7
[8:40 p.m. EST] Over 12.5 (-110) – Los Angeles Dodgers (1.5-run line: -134) at Colorado Rockies
LAD: Hyun-Jin Ryu – L (9-1, 1.27 ERA/0.84 WHIP)
COL: Antonio Senzatela – R (6-5, 4.91 ERA/1.57 WHIP)
In last night's 12-8 slugfest, we saw exactly how helpful these hot temperatures at Coors Field are for the hitters. We've got the same conditions for tonight's game, and that's why Vegas has dramatically increased the total from 11.0 to 12.5, with the Dodgers (+0.9) and Rockies (+0.7) getting massive IRT increases.
There's more reason to believe the Dodgers will add more runs to the game total. After all, Antonio Senzatela has been beaten over the head this season, especially at Coors field with a 6.21 ERA/1.59 WHIP. Senzatela did pitch well against the Dodgers last week, but we've seen plenty of teams capitalize offensively facing the same pitcher twice in a span of less than a week.
Hyun-Jin Ryu also faced the Rockies in his last start, allowing three runs (one earned) over six innings. However, Ryu has a 1-4 record over his last six start against Colorado, and it's been even worse at Coors Field. In his last two starts there, the lefty has allowed 15 hits/six walks and 15 runs (10 earned) over six innings.
Just as the case was last night, the two bullpens will certainly be a factor and ultimately decide this one. In the month of June, the Dodgers' bullpen has the second-best ERA (2.84) while the Rockies own the seventh-worst (5.46).
The SK Trend Confidence rating is strong on the Dodgers tonight in every fashion. After last night's win, the Dodgers remain a perfect 7-0 against the Rockies this season.
* Final Score Prediction * Los Angeles Dodgers: 12 – Colorado Rockies: 10
[10:10 p.m. EST] Over 9 (-112) – St. Louis Cardinals at San Diego Padres
STL: Michael Wacha – R (5-3, 5.59 ERA/1.67 WHIP)
SD: Eric Lauer – L (5-7, 4.32 ERA/1.32 WHIP)
There has only been a total of 9.0 at Petco Park twice this season, which is quite telling for a ballpark that doesn't have the stigma of being a hitter's park. For what it's worth, both times the total finished on or above the mark. Vegas adjusted the total from 8.5 to 9.0 and both teams obviously got an IRT increase as well – Cardinals: +0.2, Padres: +0.3.
A good reason for the increased total is the Padres' recent tear of offense, with 28 runs over the last three games. In the month of June, Padres' games have gone over the total 15 times in 23 games with two pushes mixed in there.
Michael Wacha has been hit or miss lately, allowing six runs or more in three of his last six starts. The Padres will run a mostly right-handed lineup out at Wacha tonight, and he's been getting crushed from that side of the plate. Opposing righties are walloping him for .338 batting average, .406 on-base percentage and 1.025 OPS this season. Of the 14 homers Wacha has allowed, 12 of them have come from righties.
While the Cardinals haven't necessarily clobbered the ball of late, facing the Padres can certainly do them some good. Eric Lauer will have to deal with a nearly all right-handed lineup to deal with, including Paul Goldschmidt and Marcell Ozuna, who are both 4-for-5 against him lifetime – Goldy has two homers while Ozuna has one.
If all of that wasn't enough, San Diego's bullpen has the third-worst bullpen ERA (6.31) in the month of June – only the Mets and Orioles have done worse.
* Final Score Prediction * San Diego Padres: 7 – St. Louis Cardinals: 4