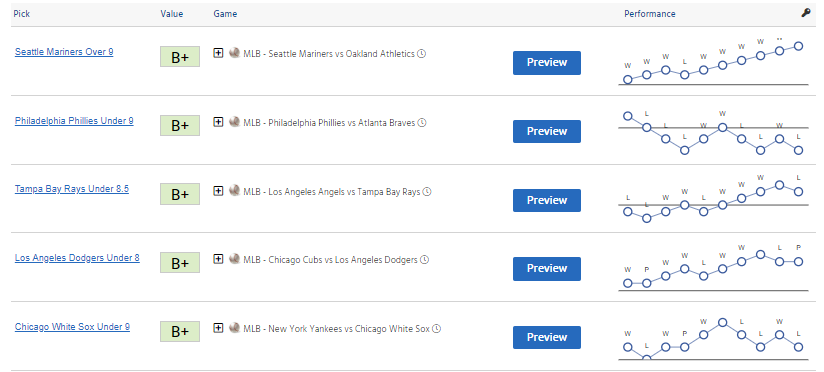 MLB Betting Value Picks for Sunday, June 16
By: Al Walsh – Follow him on Twitter @14AdotWalsh
* 2019 MLB Record: 108-90-4 (54.5%) *
[1:05 p.m. EST] Boston Red Sox at Baltimore Orioles (ML: +138)
BOS: Brian Johnson – L (1-0, 12.71 ERA/2.29 WHIP)
BAL: John Means – L (6-4, 2.60 ERA/1.10 WHIP)
After two straight games of being massive underdogs, the Orioles find themselves with a much more reasonable number today at +138. And for good reason, as John Means takes the mound for Bird Gang. The rookie southpaw has been simply fantastic at home, going 4-1 with a 1.57 ERA/0.90 WHIP and opposing batting average of .180 this season.
Means has been quite effective against Boston this season, allowing only two runs and a 0.66 WHIP in 12 innings – one start each at home and on the road. The Red Sox really haven't been that great against lefty pitching and actually own an 8-13 in games where the opposition has a left-handed starter on the mound.
The Orioles have seen a lefty starter in each of the first two games of this series, so they are more than prepared to face Brian Johnson after going against Eduardo Rodriguez and Chris Sale. Johnson will be making his first appearance since early April because of elbow inflammation, so there's certainly a chance he could be rusty in his return.
Of course, we are running the risk of relying on the Orioles' bullpen, which has been absolutely ripped to shreds in this series and all season. However, Means should be able to give them some wiggle room, and possibly even get a longer leash than usual to avoid the sweep.
* Final Score Prediction: Baltimore Orioles: 4 – Boston Red Sox: 3 *
[1:10 p.m. EST] St. Louis Cardinals (ML: -122/1.5-run line: +134) at New York Mets
STL: Dakota Hudson – R (5-3, 3.47 ERA/1.50 WHIP)
NYM: Jason Vargas – L (3-3, 3.68 ERA/1.36 WHIP)
It's a good sign for the Cards, considering the IRTs are moving in opposite directions for these teams: Cardinals: +0.3, Mets: -0.3.
Whatever Dakota Hudson has been drinking or eating since mid-May, he definitely needs to keep it up. Hudson has now allowed two runs or fewer in each of the last five starts, including only one run in each of the last three. The Red Birds will also benefit from Jeff McNeil and Wilson Ramos getting the day off.
Jason Vargas looked human in his last start, and today's matchup against St. Louis won't be an easy one. A few of these guys have seen Vargas well over the course of their careers, including leadoff hitter Matt Carpenter, who is 6-for-7 against him lifetime. If Carp is getting on base with great regularity today, that'll set the tone for the Cards' lineup.
The 14 mph winds blowing out to right-center field will be a factor here as well. Hudson is an extreme ground-ball pitcher, which won't affect him that much, while Vargas and his fly-ball ways could be playing with fire here.
I'd feel safer going with the Cards on the moneyline today, but I don't mind hitting up that 1.5-run line at +134 since the team has won by two runs or more in Hudson's last five starts.
* Final Score Prediction: St. Louis Cardinals: 6 – New York Mets: 2 *
[1:20 p.m. EST] Over 10.5 (-106) Philadelphia Phillies at Atlanta Braves
PHI: Cole Irvin – L (2-1, 5.48 ERA/1.27 WHIP)
ATL: Mike Foltynewicz – R (6.02 ERA/1.32 WHIP)
Four of the five games in this season series have gone over the total – so what's another one? Vegas likes that idea, as the IRTs have been increased for both sides (Braves: +0.4, Phillies: +0.2).
Cole Irvin had a nice feel-good story, getting the win in his MLB debut on Mother's Day at Kansas City. Since then, there hasn't been a whole lot to be excited about, but he has faced some difficult opponents in the Rockies, Cubs and Dodgers. Unfortunately, it doesn't get any easier today, as the Braves own Top-10 numbers in most advanced metrics against left-handed pitching.
There's not a ton of info on it just yet, but it looks like Vince Velasquez will start the game as the "opener" and then Irvin will come in behind. By the way, the current Braves' roster owns a .362 batting average, .415 on-base percentage and .993 OPS lifetime against Velasquez.
Mike Foltynewicz goes for Atlanta and this has been a brutal start to 2019. Folty has been at his absolute worst in SunTrust Park this season, going 0-3 with a 7.18 ERA/1.40 WHIP and 11 homers allowed in 31 1/3 innings.
I'll give the nod to the Braves today, considering J.T. Realmuto and Jay Bruce are out of the lineup. The Phils' bullpen was outstanding last night, but they still have terrible numbers across the board this season, and completely blew the game on Friday.
All in all, we're in a great position for runs today at an extreme hitter's park with mediocre pitching (at best) and questionable bullpens.
* Final Score Prediction: Atlanta Braves: 8 – Philadelphia Phillies: 6 *