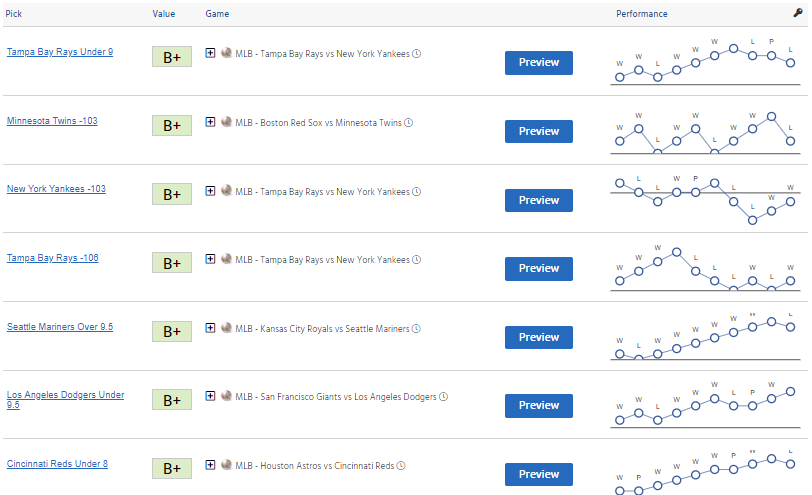 MLB Betting Value Picks for Monday, June 17
By: Al Walsh – Follow him on Twitter @14AdotWalsh
* 2019 MLB Record: 110-91-4 (54.7%) *
[7:05 p.m. EST] Over 10 (-108) – Philadelphia Phillies at Washington Nationals
PHI: Jake Arrieta – R (6-5, 4.31 ERA/1.45 WHIP)
WSH: Patrick Corbin – L (5-5, 4.11 ERA/1.22 WHIP)
Vegas is loving some runs in this game, elevating the IRTs (implied run totals) for each team – Nationals: +0.7, Phillies: +0.3.
Jake Arrieta has not been at his best of late and the control has been a big reason why. The veteran righty has issued nine walks over his last two outings (10 2/3 innings), despite the Phillies getting the win in each of them. The road has not been kind to Arrieta either, as he's allowed five runs in each of his last two starts away from Citizens Bank Park.
The Phils' bullpen has been downright awful of late. After coughing up Friday's game in Atlanta, three of their pitchers combined to give up 15 runs in Sunday's loss to the Braves. Stretching it out a bit longer, the Phils' bullpen has the second-worst ERA (9.27) in MLB over the last seven days.
Arrieta could very well find himself in a spot where he's forced to pitch more innings, even if things aren't going well.
Aside from a complete-game shutout against the lousy Marlins, Patrick Corbin has been brutal. Over his last three starts (12 2/3 innings), the lefty has allowed 22 hits and 20 runs (16 earned) – yikes!
According to the advanced metric xwOBA, the top six hitters in each team's lineup have been making solid contact over the last 21 days against the handedness of starting pitcher on the mound tonight. Not to mention, five of the last six games for both teams have gone over the total.
FYI: This game might get off to a late start with a 50% chance of rain in the forecast from 7-9 p.m. I don't see that causing any issues for either offense.
* Final Score Prediction: Washington Nationals: 8 – Philadelphia Phillies: 7 *
[7:05 p.m. EST] Under 9 (+100) – Tampa Bay Rays at New York Yankees
TB: Yonny Chirinos – R (7-2, 2.88 ERA/0.93 WHIP)
NYY: Masahiro Tanaka – R (4-5, 3.58 ERA/1.18 WHIP)
While Yankee Stadium isn't exactly the place we usually look for the total going under, there is a nice matchup of dueling righties on the mound tonight.
The Spread Knowledge Trend Confidence rating has the under on this game as the highest grade of the evening. A big reason is that nine of the last 13 Rays' games have gone under the total. Also, the total has dropped slightly from 9.5 to 9.0, and the Yankees' IRT dropped from 5.2 to 4.8 – usually a good sign for the under.
Masahiro Tanaka hasn't been at his best lately, but he does have fantastic lifetime numbers (0.96 career WHIP) against the Rays. That includes 13 innings of work against them this season, allowing only eight hits and one run while striking out 13 batters. In his last six starts against the Rays, Tanaka has allowed two runs or fewer in five of those – one run or fewer in four of them.
Yonny Chirinos has made a smooth transition to becoming a legit starter, and he's allowed two runs or fewer in six of the last seven outings – one run or fewer in four of the last six. The electric righty has done a fine job of limiting runs against the Yankees, allowing no runs in two of his four career meetings – the latest coming at Yankee Stadium.
Both of these teams have incredibly-talented bullpens, so I certainly won't bet against them. Look for this to be a low-scoring game that comes down to the very end.
* Final Score Prediction: Tampa Bay Rays: 4 – New York Yankees: 3 –*
[7:10 p.m. EST] Under 8.5 (-112) Houston Astros at Cincinnati Reds
HOU: Wade Miley – L (6-3, 3.14 ERA/1.16 WHIP)
CIN: Luis Castillo – R (6-1, 2.20 ERA/1.09 WHIP)
It's a fantastic matchup of arms, as Wade Miley and Luis Castillo go up against one another, in a ballpark that usually makes pitchers weep. The total going under in this game is also one of the highest grades on the SK Trend Confidence rating.
Let's start with Castillo, who has allowed one earned run in each of his last three starts. It's quite telling that the Astros are underdogs, given that they're 1-4 when having that label this season. Obviously, Castillo and his dominance play a big part in tonight's line, but Houston is also coming off a 12-0 shellacking at the hands of Toronto yesterday. Sure, the Astros' lineup is missing some key pieces, but you can't be getting beat by the Blue Jays like that.
If, for some reason, Castillo doesn't make it too deep into this start, no worries. The Cincy bullpen is leading a number of categories in advanced metrics over the last seven days.
Miley has been a pleasant surprise for the Astros this season, especially of late, allowing two runs or fewer in seven of the last nine starts. I don't see him being as dominant as Castillo tonight, but certainly enough to not let this run total get out of hand. I'd be willing to bet that someone like Eugenio Suarez or Yasiel Puig tag him for a long ball, and that'll ultimately be the difference.
I'm giving the Reds the win in this one, on the strength of a dominant performance from Castillo. It's also a good sign for him that Houston loses its DH playing in the National League park.
* Final Score Prediction: Cincinnati Reds: 4 – Houston Astros: 1 *
[10:07 p.m. EST] Baltimore Orioles at Oakland Athletics (1.5-run line: -114)
BAL: Andrew Cashner – R (6-2, 4.63 ERA/1.38 WHIP)
OAK: Mike Fiers – R (6-3, 4.63 ERA/1.14 WHIP)
We've got trends galore in our favor for the A's over the Orioles tonight – listen up!
Oakland is favored by its highest moneyline of the season tonight at -230. The A's have been favored by -200 or more only twice this season, winning both games and scoring a total of 20 runs. Vegas knows what they're doing.
The A's will face Andrew Cashner, who they've beat up on a consistent basis. The veteran righty has a 6.83 ERA/1.69 WHIP against Oakland lifetime, and a lot of the hitters on the current roster have fantastic BvP numbers against him.
Mike Fiers has been fantastic over his last nine starts, allowing three runs or fewer each time out. He's been even better against the Orioles, with a 3-1 record and 2.08 ERA/0.88 WHIP lifetime. Fiers also has great numbers at home this season, going 4-2 with a 0.95 WHIP. Over the last two seasons, Fiers' team is 19-5 when he pitches at home and 16-7 when he pitches against teams with a losing record.
Oakland has been relaxing here on the West coast, while Baltimore had to travel across the country yesterday for tonight's game. Look for them to experience plenty of jet-lag and the A's to get a comfortable victory.
* Final Score Prediction: Oakland Athletics: 7 – Baltimore Orioles: 2 *