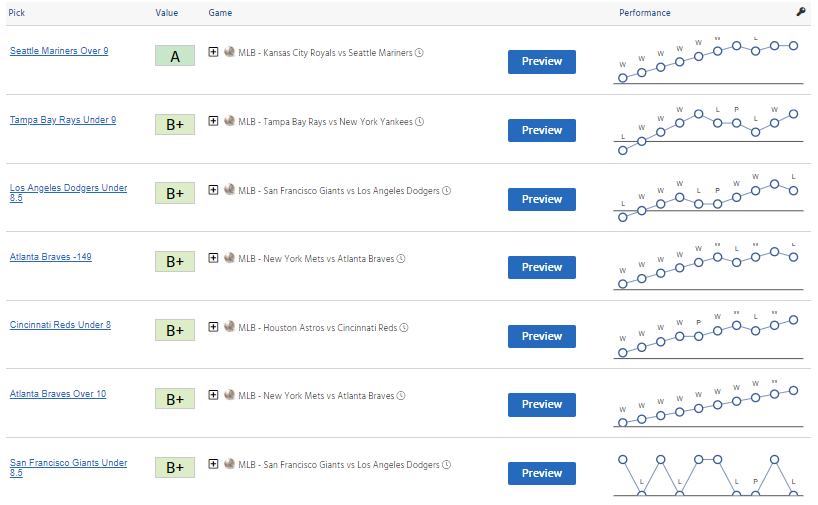 MLB Betting Value Picks for Wednesday, June 19
By: Al Walsh – Follow him on Twitter @14AdotWalsh
* 2019 MLB Record: 113-94-4 (54.6%) *
[6:40 p.m. EST] Over 9 (-102) Kansas City Royals at Seattle Mariners
KC: Brad Keller – R (3-8, 3.97 ERA/1.34 WHIP)
SEA: Marco Gonzales – L (7-6, 4.50 ERA/1.39 WHIP)
The only trend with an A-grade in today's SpreadKnowledge Trend Confidence rating is for the total going over in this game. It makes plenty of sense, considering 11 of the Mariners' last 14 games have done such.
A big reason for today's optimistic thinking is Marco Gonzalez, who has been ripped at T-Mobile Field this season. The lefty owns a 6.53 ERA and 1.60 WHIP to go along with an opposing batting average of .312 in eight home starts. In comparison, Gonzalez owns a 2.77 ERA and 1.21 WHIP with an opposing batting average of .244 on the road. Apparently, someone likes hotel linens.
The numbers for Gonzales are also brutal in daytime starts, with a 6.75 ERA and 1.86 WHIP with a .331 opposing batting average in six such outings.
If Gonzales gets beat up early, Seattle's bullpen hasn't been much better of late. Only the Orioles' pen has allowed more runs over the last seven days, and only two pens have allowed more homers over the same stretch.
KC's bats have been performing very well over the last three games, with a total of 23 runs in that stretch.
Brad Keller will take the mound for the Royals, and while he's pitched well over the last two starts, I don't think he'll keep it up too much longer. Allowing baserunners have been an issue at times this season and the Mariners have plenty of speed on basepaths to make things uncomfortable for him. I don't see Keller getting destroyed, but certainly allowing enough runs to comfortably get us over the total.
Vegas elevated the total of this game up to 9.0, from its original spot 8.5, with the IRTs increased for both teams – Mariners: +0.3, Royals: +0.2.
* Final Score Prediction: Kansas City Royals: 8 – Seattle Mariners: 4 *
[7:05 p.m. EST] Detroit Tigers at Pittsburgh Pirates (1.5-run line: +100)
DET: Jordan Zimmermann – R (0-4, 5.93 ERA/1.35 WHIP)
PIT: Trevor Williams – R (2-1, 3.33 ERA/1.13 WHIP)
We rarely talk about the Pirates putting a thumping on teams, but tonight seems like a good time to start. Pittsburgh had more than a full-run IRT increase from 4.3 to 5.6, which is usually a glowing sign of success. The Pirates' -200 number on the moneyline is their highest (by far) of the season. It's also worth noting they're a whopping 22-8 in the last 30 inter-league games.
A big reason for the massive favoritism is Trevor Williams, who owns a 2-0 record, 0.95 ERA and 0.79 WHIP in three career starts against the Tigers. One of those starts came back in April, as Williams allowed only two runs over six innings en route to getting the win.
Since this is Williams' first start in a little over a month, I doubt he'll go more than five innings – maybe six if all goes well. Not to worry, Pittsburgh's bullpen has allowed the second-fewest runs (4) in MLB over the last seven days, and that's even with facing the 10th-most batters (107) over that span.
Speaking of returning after a long stint on the injured list, Jordan Zimmermann will be doing the same. Things weren't going well at all before that stint, and Zimmerman got rocked in his rehab outing in Triple-A on Thursday. The righty allowed four runs, including two homers, over 4 2/3 innings down on the farm for Toledo.
The big difference here is that Pittsburgh has done well against Zimmermann over the course of his career. In 98 plate appearances, the Pirates' current roster owns a combined .326 batting average and .990 OPS to go along with six homers against him.
All in all, Vegas has spoken with the massive moneyline and IRT increases. I'm taking the Pirates on the 1.5-run line and shedding some money to lay out. The SK Trend Confidence rating also has a strong B+ grade on the total going over in this game, and that should have a lot to do with the Pirates' success.
* Final Score Prediction: Pittsburgh Pirates: 10 – Detroit Tigers: 2 *
[10:10 p.m. EST] Under 7.5 (-106) – San Francisco Giants at Los Angeles Dodgers
SF: Drew Pomeranz – L (2-6, 6.43 ERA/1.73 WHIP)
LAD: Rich Hill – L (4-1, 2.60 ERA/1.13 WHIP)
The SK Trend Confidence rating has a very strong lean (B+ grade) for the total going under in this game. Reason being, 13 of the Dodgers' last 18 games have suffered that fate.
Rich Hill has been outstanding over his last six starts, allowing two runs or fewer in all of them – the only misnomer went for three runs. The strikeouts are starting to come back for Hill, who now has a total of 59 in 52 innings of work this season. San Fran has been downright awful against left-handed pitching over the last 21 days, with a .237 wOBA, .046 ISO and 28% K-rate. Good luck with all that.
While Hill doesn't typically go too deep into games, that's alright. The Dodgers' bullpen owns the lowest ERA in MLB over the last seven and 14 days – another big reason why the total has been going under in a lot of their games recently.
We haven't looked at Drew Pomeranz as a solid pitcher most of this season, but that hasn't been the case lately. The lefty now has back-to-back appearances of allowing no earned runs, with one of those performances coming against these same Dodgers. Not to mention, the current Dodgers' roster owns a combined .179 batting average and .235 on-base percentage in 101 career plate appearances against Pomeranz.
Vegas likes the under here, moving the total from 8.0 to 7.5 and both teams' IRTs suffer because of that – Dodgers: -0.3, Giants: -0.2.
* Final Score Prediction: Los Angeles Dodgers: 5 – San Francisco Giants: 1 *