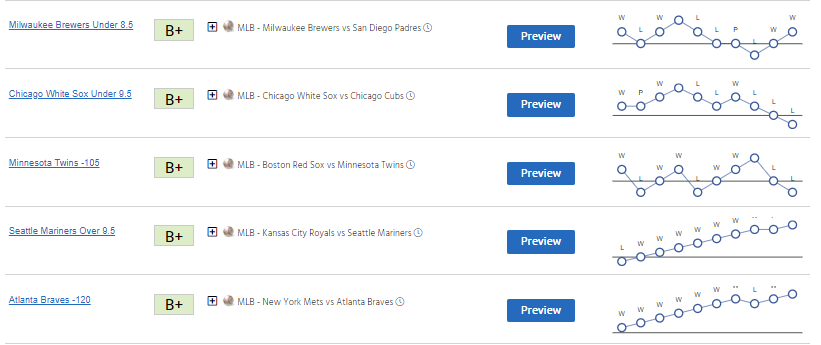 MLB Betting Value Picks for Tuesday, June 18
By: Al Walsh – Follow him on Twitter @14AdotWalsh
* 2019 MLB Record: 112-92-4 (55%) *
[7:05 p.m. EST] Over 9.5 (-116) – Philadelphia Phillies at Washington Nationals
PHI: Jake Arrieta – R (6-5, 4.31 ERA/1.45 WHIP)
WSH: Patrick Corbin – L (5-5, 4.11 ERA/1.22 WHIP)
Jake Arrieta has not been at his best of late, and his control has been a big reason why. The veteran righty has issued nine walks over his last two outings (10 2/3 innings), despite the Phillies getting the win in each of them. Not to mention, the road has not been kind to Arrieta, as he's allowed five runs in each of his last two starts away from Citizens Bank Park.
The Phils' bullpen has been downright awful of late. After coughing up Friday's game in Atlanta, three of their pitchers combined to give up 15 runs in Sunday's loss to the Braves. Stretching it out a bit longer, the Phils' bullpen has the second-worst ERA (9.27) in MLB over the last seven days.
Arrieta could very well find himself in a spot where he's forced to pitch more innings, even if things aren't going well.
Aside from a complete-game shutout against the lousy Marlins, Patrick Corbin has not performed well at lately. Over his last three starts (12 2/3 innings), the lefty has allowed 22 hits and 20 runs (16 earned) – yikes!
The top six hitters in each team's lineup have been making solid contact over the last 21 days against the handedness of starting pitcher on the mound tonight. Not to mention, five of the last six games for both teams have gone over the total.
* Final Score Prediction: Washington Nationals: 8 – Philadelphia Phillies: 7 *
[7:20 p.m. EST] Under 8.5 (+100) – New York Mets at Atlanta Braves (+106)
NYM: Jacob deGrom – R (3-6, 3.38 ERA/1.13 WHIP)
ATL: Julio Teheran – R (5-4, 2.92 ERA/1.19 WHIP)
There's owning teams, and then there's straight up OWNING teams. Julio Teheran does somersaults out of bed on days he knows the Mets are on the schedule. The veteran righty owns a 2.16 ERA/1.04 WHIP against them lifetime. New York's current roster owns a putrid .203 batting average and .266 on-base percentage against Teheran with a 25.2% K-rate.
Teheran has been immaculate over his last eight starts, allowing one earned run or fewer and no homers in that stretch.
That's how good Teheran has been against the Mets, that I didn't lead off this game with reigning Cy Young winner Jacob deGrom. After a rough start to the season, he's rebounded nicely by allowing two runs or fewer in eight of the last nine starts. deGrom also has solid numbers against tonight's opponent, with a 1.86 ERA/1.02 WHIP lifetime. The current Braves' roster owns a .235 batting average, .292 on-base percentage and 29.2% K-rate against him.
All of this is great news for the total going under tonight, but the one thing that could derail this pitcher's duel is the Mets' bullpen – they have been downright awful over the last couple of days. However, I find it quite intriguing that New York is favored in this game, considering how well Teheran has pitched against them in the past – not to mention, his current form. I do think that means deGrom ends up having a solid performance, but the game could certainly be lost by the bullpen.
Lastly, there are some great trends in the Braves' favor tonight – or bad luck for the Mets. The Mets are 1-7 after allowing 10 runs in the previous game, 0-6 when deGrom is on the mound after a loss in the previous game and 4-10 in all games that deGrom starts this season. Yikes!
* Final Score Prediction: Atlanta Braves: 4 – New York Mets: 1 *
[10:10 p.m. EST] Under 7.5 (-104) – Milwaukee Brewers (1.5-run line: -102) at San Diego Padres
MIL: Brandon Woodruff – R (8-1, 3.87 ERA/1.16 WHIP)
SD: Logan Allen – L (MLB debut)
Brandon Woodruff has pitched incredibly well this season and the Brewers have won his last nine starts – eight of them coming by two runs or more. Tonight, he'll face a Padres offense that owns the third-lowest IRT (3.3) on tonight's slate. Vegas is already telling us that we're going to see another low-scoring affair, as both teams have seen a decrease in IRTs (Brewers: -0.4, Padres: -0.6) and the game total also went from 8.5 to 7.5. In my opinion, this is all fantastic news for Woodruff in one way or the other.
Logan Allen makes his MLB debut tonight, and he's more of a needed body, as opposed to someone that deserved a call-up from Triple-A. Allen owned a 4-3 record and 5.15 ERA for Triple-A El Paso, but the Padres' bullpen was absolutely taxed after a crazy three-game series in Colorado over the weekend.
Luckily for the under, Milwaukee's bats haven't been rocking and rolling like they have most of the season. Over the last 21 days, they own a well-below average .315 wOBA against left-handed pitching and did just get shut down by Joey Lucchesi last night.
All in all, we're looking for a dominant performance from Woodruff once again, with Allen doing just enough to carry us to a low-scoring affair.
* Final Score Prediction: Milwaukee Brewers: 5 – San Diego Padres: 1 *